Nearly 200 U.S. military veterans work at Atria, and many have been promoted over the course of their careers. There are a lot of reasons for their success, though being well-prepared and eager to lead are at the top of the list. Read on to learn how three Atria leaders, who are also military veterans, used the lessons they learned during their service to propel their senior living careers.
"The Army taught me responsibility and the importance of doing what you say you're going to do."
Doug Nunez is the Executive Chef at Holiday Sky Peaks in Reno, Nevada. He joined the team as a Sous Chef, but received a promotion within a week of being hired. Today, he leads a team of five.
Chef Doug, as he prefers to be called, enlisted in the Army right out of high school, and he served as a Company Armor Supply Clerk from 1980 to 1983. He didn't discover his passion for food until after his time in the service, but the skills and knowledge he gained while in the Army – including procurement, ordering and being prepared – are invaluable when it comes to leading the kitchen at his community.
Mostly though, it was in the military where Chef Doug learned the importance of responsibility and following through on your commitments.
"The Army taught me responsibility and the importance of doing what you say you're going to do," Chef Doug said.
That's important for a lot of roles, especially when you lead a team that's responsible for delivering delicious meals to an active community of residents, who regularly work to ensure their favorites are on the menu.
"We're a great community, with lots of veteran residents. I'm out every meal and I go by their tables to make sure everything tastes great," Chef Doug says. "I also get recipes from residents. We're making one tomorrow night—it's ghoulash."
"Set clear expectations, and then hold people accountable."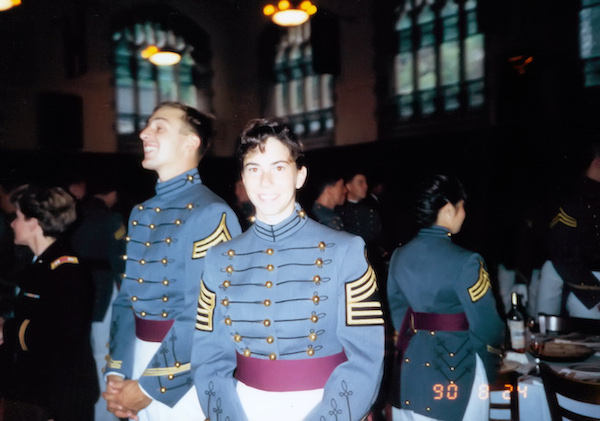 If you visit Jan Heffernan's office at the Atria Support Center in Louisville, Kentucky, you'll notice a stack of thank-you cards that her team shared with her recently. Almost all of the messages share a similar sentiment – appreciation for her help in their development as people and professionals.
As the Senior Vice President of Business Optimization, Heffernan leads a team of nine, and has been promoted four times since arriving at Atria in 2012 as Purchasing Manager.
Prior to her time at Atria, her career began as an Army Finance Officer in 1987, after spending four years at West Point Military Academy. As an Officer, Heffernan found herself leading a team of five from the very start.
"In the Army, I learned to set clear expectations, and then hold people accountable. People want to be trusted and stretched, and it's rewarding to see them do more than they thought they could," Heffernan said.
The thank-you notes indicate Jan's taken that sentiment just as much to heart at Atria as she did in the Army.
"No matter your role, it's very important to the overall success of the team and mission."
Today, Chad Welch is the Food and Beverage Director at Coterie Hudson Yards in New York, where his current mission is preparing a culinary operation that's designed to please the palates of its discerning residents three times daily. Welch's first culinary job was cooking for a slightly different group through – hungry sailors serving alongside him in the Navy from 1992-1994. It's there where he learned just how critical the cook is.
"When I joined as a cook, I was embarrassed to be in the Navy as 'just a cook.' During my service, I realized that no matter how small one feels their role is, each position is very important to the overall success of the team and mission. Besides keeping people nourished, food was often the only thing to look forward to when you're at sea working 12 hours on, 12 hours off every day," Welch said.
Since starting at Atria in 2005, Welch has grown his career with a number of promotions. He, and his veteran co-workers like Nunez and Heffernan, know how much every person – in every role –is appreciated for their contributions at Atria.
"There are so many opportunities here," Heffernan said when asked about advice she'd share with veterans looking to start a career at Atria. "You can start wherever, and if you do great work, you'll be recognized and have opportunities to do more."
If you're a military veteran, visit atriacareers.com to view open positions across the U.S. and Canada.