The average person spends one third of their life at work. That is an incredible amount of time. While I might consider myself an average person, I realized early on that I wanted my work to be anything but average. Intentionally, I sought a career where people could achieve something together – as a company and as collective individuals – that could not be done alone.
I feel passionate about our work at Atria Senior Living. We create communities where employees thrive in their work, helping older adults thrive in retirement. Our highest priority is to provide exceptional service to our residents. At the same time, we are also strongly committed to providing an engaging and rewarding work environment for our employees. At Atria, we believe you can't have one without the other.
We are committed to being the best possible place to work. That commitment is exemplified by these five promises we make to each and every employee.
We develop our employees. Through tuition reimbursement, training and development programs, and well-being benefits, Atria employees can thrive as people and grow as professionals.
We recognize our employees. We celebrate personal and professional milestones, from work anniversaries and promotions to academic achievements and individual accomplishments.
We build a culture of trust. We hire and train talented, compassionate people and we have an expectation of accountability for our leaders. This ensures a culture of mutual trust and respect.
Our employees are proud to be a part of the Atria family. Our success is driven by the collaboration of employees who are proud to make Atria the best possible place for residents to live, and for fellow employees to work.
Our employees belong here. We build and nurture teams so both our employees and residents feel a sense of belonging in their communities.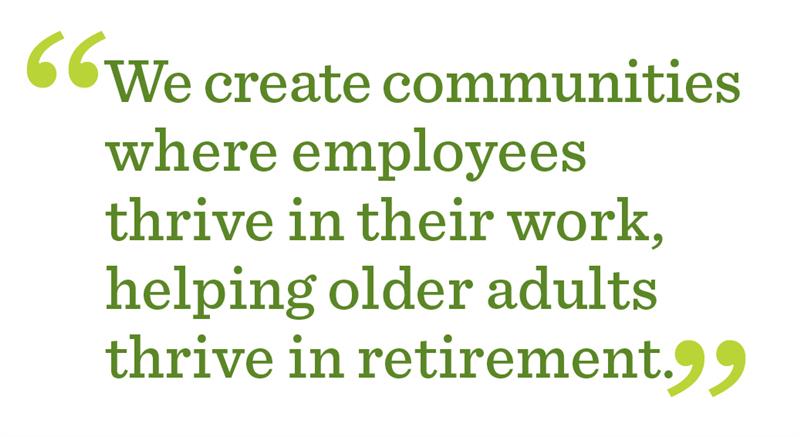 Our management services platform supports a family of brands, and more than 39,000 older adults call an Atria community home. No matter which brand our employees call their workplace, they are a part of something much larger, and the opportunities to learn and grow with us are truly remarkable.
My hope for each and every one of Atria's employees in the year ahead is that you continue to be inspired, purposeful, determined, extraordinary, valued and recognized.
Sincerely,
Karen Sheean, Chief Human Resources Officer