For Allie Harkins, senior living is a family affair. By the time she was 6 years old growing up in Dallas, spending afternoons at the assisted living community where her father worked was a natural, normal and enjoyable part of life.
"My dad was a sales specialist, and he would take me to work often," Allie says. "He let me 'volunteer' around the community in whatever ways a little kid could. I served dinner rolls in the dining room, which I just thought was the greatest. The residents were so funny and had the best stories. We had a great time together."
Whether they realized it at the time, those father-daughter trips to work planted seeds that would later shape Allie's career.
When it was time for college, Allie studied psychology at Texas State University. Though a desire to serve seniors was in the back of her mind, she was uncertain about which capacity or role and wanted to reinforce her instincts with experience.
After receiving her degree, Allie returned to Dallas and soon took a position as a concierge at an independent living community.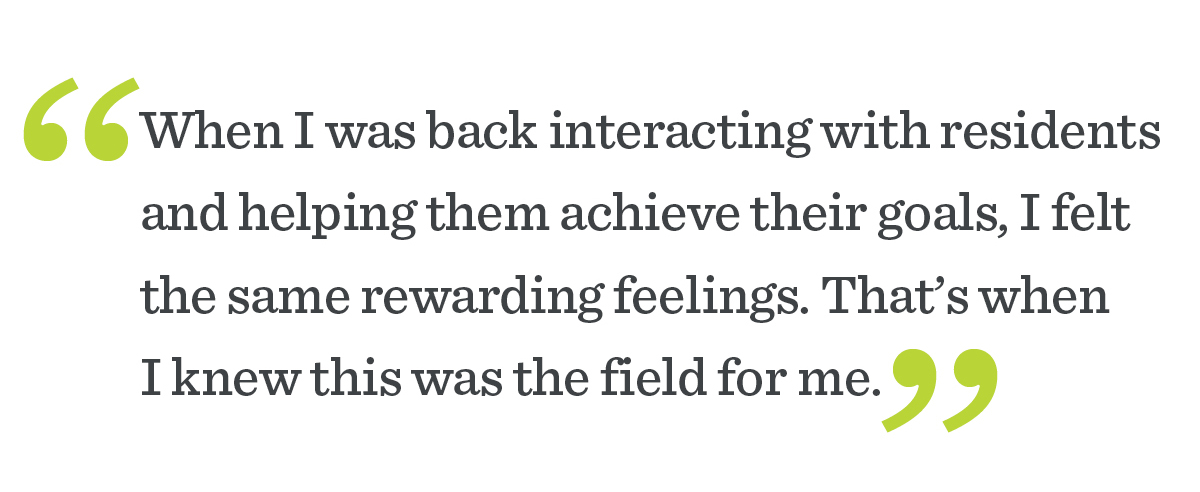 Allie furthered her education and attained a master's degree in social work with a direct practice in gerontology and aging. She deepened her experience by moving to Orlando and working in healthcare and social work for seniors in 2019.
Orlando, Allie noted, was also home to the support center of Holiday Retirement (now Holiday by Atria), where her dad worked for many years.
"I thought, 'Now wouldn't that be interesting, for us to wind up working for the same senior living company, just like when I was serving dinner rolls all those years ago.'"
That's precisely what happened. Today, Allie works as a Customer Satisfaction Specialist for Atria and Holiday by Atria communities across the country. In this role, she communicates, problem-solves and helps create an exceptional experience for residents.
"Allie is such a natural. It didn't surprise me at all to learn she's been serving older adults for much of her life," says Sara Kmack, Atria's Director of Customer Experience. "She possesses genuine empathy and communicates with such ease – it's been special to watch her thrive."
Through the years – though her city, school or company may have changed – Allie's dedication to serving seniors remains steadfast.
"The knowledge older adults have is so valuable. And, as a society, our senior population can often be overlooked," Allie says. "I knew – in the back of my mind – I always knew I wanted to play a part in correcting that. It's an endlessly rewarding field."