As a part-time dishwasher at Atria Aquidneck Place for almost five years, Teon Cromwell has cleaned and polished a fair share of drinkware. In his free time, however, his head is full of ideas for how to fill them with creative and flavorful concoctions.
Teon's talent for mixology – the craft of mixing spirits and cocktails – recently earned him a feature in Newport Life magazine, as well as thousands of fans on social media channels who love seeing his creations come to life.
He recently answered questions about his unique passion, his time at Atria Aquidneck Place, and even shared an idea for an Atria Senior Living cocktail.
How did you come to Atria Aquidneck Place?
I was looking for a part-time position that worked with my schedule, and that's how I came to the community. I fell in love with the people and the atmosphere here.
When did you realize you had a talent for mixology and flavors?
My whole family loves to cook, bake and experiment with flavors. It's how we connect and communicate with each other. So I've always had a passion for entertaining people with food and drink – it's my love language.
My interest in mixology is a little newer. I've been making videos for a little over two years. Some of it was practical – it was much easier to demonstrate crafting a cocktail than a full lasagna! But I love the experimentation and how it's taken off.
Do you share your ideas with your Atria coworkers?
Our kitchen is like family. Really, the whole Atria community is like that, but especially in the kitchen where we work in close quarters. I'm always bouncing concepts off our head chef who is also one of my best friends and gives great feedback. Or Liz, who works at our reception desk – she's one of my biggest cheerleaders and someone I count on for support.
Just being in the Atria kitchen with each other, conversing and laughing, it's my favorite place to be.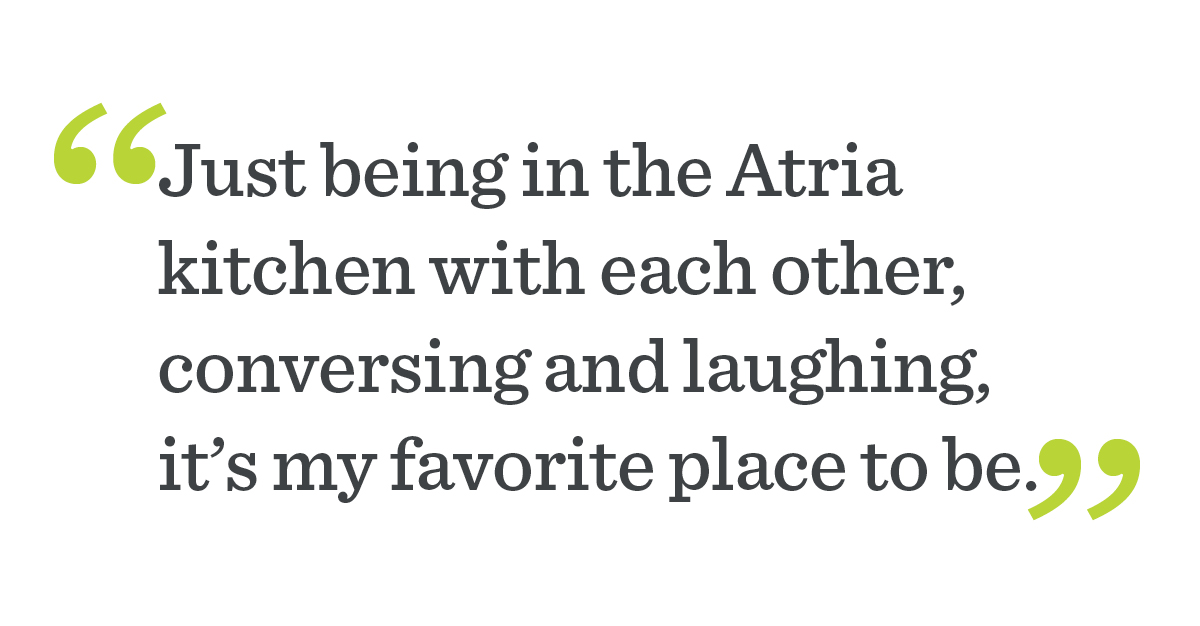 You've been at this community for a long time. What makes Atria Aquidneck a special place to work?
The people and the atmosphere are what make it special. As I mentioned, it really is like a second family here. And I like the relationships we foster with residents.
During the pandemic, I delivered many meals room-to-room and formed relationships with a lot of our residents. I love hearing about their lives and the stories they have to tell.
If you were to craft a "senior living" drink or cocktail, what would it be?
Oh, I'm a bit of a perfectionist. I'll have to dedicate some time and tinkering with that one.
(two weeks later…)
After multiple attempts, here is a recipe I'm very happy with. Enjoy!
Teon's "Better with Age" Cocktail
2 oz Arnold Palmer™
2 oz Bourbon
1 oz Lemon juice
¾ oz Elderflower syrup
4 Strawberries
4 dashes Rhubarb bitters
Combine all ingredients in a cocktail shaker, fill it with ice then shake vigorously for about 30 seconds. Double-strain into a coupe glass, garnish with a lemon wheel and a strawberry, and serve immediately.
Follow Teon on Instagram to see more of his delicious creations.