Every Atria employee has a different job to do, but they all share the same duty. Connecting with residents is bound to happen for each community team member, especially those who have long tenure. Rabbi Yitzchak Levine is a perfect example.
"I'm here for everybody."
Rabbi Levine works at Atria Kew Gardens as Hospitality Coordinator. When he started working at Atria, he offered special care and support to residents of Jewish faith. Now, more than 17 years later, Rabbi Levine is a constant highlight for everyone at Kew Gardens. "I connect with anybody who needs my help."
"The residents became like a big family."
Rabbi Levine says his most common role in the community is spent outside of it, visiting residents while they participate in rehabilitation programs or need to stay at the hospital. He says it's also his most important role. While this practice began with Jewish residents, Rabbi Levine's friendly nature was soon requested by everyone who needed a kind word during a stressful time. "I have a connection with everybody here."
His connection doesn't end with residents. It extends to their families and friends. Rabbi Levine remarked he's been invited to family birthdays, funerals, and weddings held by the children and grandchildren of residents. He's even kept in touch with residents who have moved on from his community, something he takes great pride in.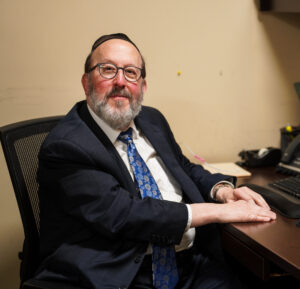 I have a connection with everybody here.
"I learned from their bravery, strength, and courage."
When asked about his favorite memory of working with residents at Atria, Rabbi Levine was quick to answer. During his career at Kew Gardens, he's been fortunate enough to hear from residents who lived during World War II. Rabbi Levine noted he's spoken to many veterans over the years. Some residents fought in D-Day. Others were survivors of the Holocaust. As he reflected on the conversations he's had, Rabbi Levine could still feel their weight. "I learned from their bravery, strength, and courage."
More recently, Rabbi Levine continued to witness the resilience of his residents. His favorite times of the year are when he leads service for Jewish holidays, like the Sabbath. However, he encountered some challenges in the past couple years. "It can be difficult for older adults to attend synagogue, especially during the pandemic." Despite these challenges, they found a way to come together, whether it was masking up, joining the services remotely, or moving them last minute to a venue accessible to everyone. Rabbi Levine said he's constantly impressed by the residents' ability to persevere. "It's been unbelievable."
After years of service at Atria, Rabbi Levine says supporting the residents and their families still doesn't feel like work. "I feel I've gotten more from them than they've gotten from me." Find a place to belong and people to connect with at atriacareers.com.