Atria's Employee Value Proposition serves as a touchstone to clearly guide and strengthen the relationship between employer and employee.
How these company promises are put into practice often reflects the style, experience, and personality of the company leaders who implement them.
Tara Kolahifar, Regional Vice President, recently shared insights on a key tenet of the Employee Value Proposition – a commitment to recognize employees.
On Atria's culture of recognition…
Since the beginning of my career with Atria I've been impressed with how the company invests in people. That means the whole person, which, of course, includes their families and lives outside of work.
During the early days of the pandemic, I recall the extraordinary lengths Atria went to to protect employees and their loved ones. Packages were sent home with us that included N95 masks, testing kits, sanitizer – and at the time, these items were scarce.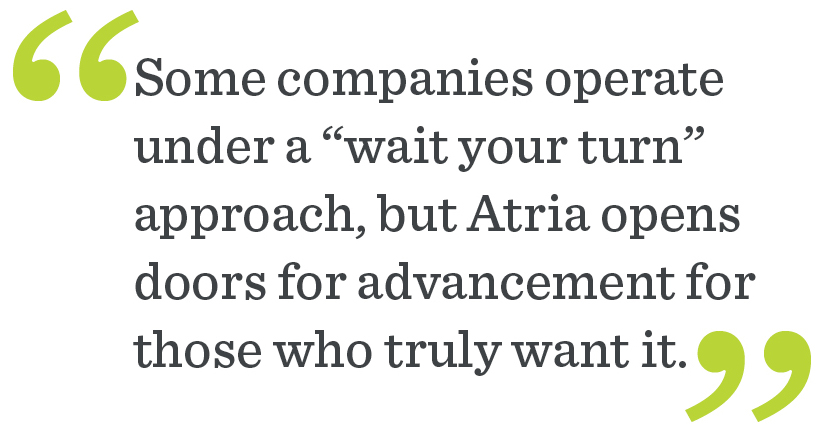 The measures Atria took as a company to recognize the entirety of what employees were going through and to help them through a scary time made an impression on me. Atria is a company that values people.
On her favorite employee recognition program…
I really appreciate the financial bonuses for long-tenured staff on "work anniversaries." So many employees have been with their communities for five, ten, in some cases more than twenty years. That's a big part of someone's life and these are important milestones. It's worth celebrating. And the bonus is a nice perk too!
On times when she felt recognized at work…
I feel recognized often. I had growth opportunities within the company despite not being with Atria terribly long at that time. That made me feel as if my hard work was being recognized. Some companies operate under a "wait your turn" approach, but Atria opens doors for advancement for those who truly want it.
Early on in my career my former supervisor was someone who recognized me constantly, whether it was a quick call to say, "Really great job in that culinary meeting" or a quick note of appreciation when a task was completed. Even if the gesture was small, at the time it was monumental to me to know I was on the right track.
On the importance of one-on-one time for an employee and their supervisor…
Fostering open and free-flowing dialogue between an employee and their supervisor goes such a long way. It's valuable to regularly carve out time, to close the door and tune out any distractions, and let a person guide a meeting and set an agenda for discussion with their supervisor.
It's wonderful for relationship development, but it's also a safe space to discuss challenges at work and come up with a plan to address them in a focused way. Atria has always prioritized these one-on-one meetings – for me, they've been an effective tool for building a culture of recognition.